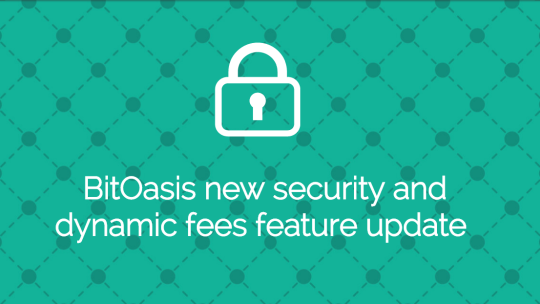 Yesterday we had a planned service upgrade on our platform to improve our multisignature security and add new transaction features to your wallet. BitOasis multisig wallet is now supported by wallet security provider, BitGo, where your second multisig key will be securely stored. We have also improved our dynamic transaction fees allocation to make sure your transactions won't get stuck again on the bitcoin network or have you overpay on fees.
The following are some of the new features added to your wallet:
– SMS multisig transaction confirmation: We will no longer initiate a call confirmation to your personal mobile number to confirm your transaction and sign with your second key. Starting today, outgoing wallet transactions and sell trades that require user confirmation will now be confirmed via SMS. Once you initiate a transaction an OTP code will be sent to you via SMS. Once you receive it you will need to type in the code on your screen to sign with your second key and send out your bitcoins.
– New transaction thresholds: You now have a daily limit of 0.2BTC of transactions above which your wallet will initiate an SMS confirmation to your mobile to allow you to sign with the second key (OTP code confirmation explained above). Any transaction below the 0.2BTC limit will not trigger an SMS confirmation. In the future we will be allowing you to set your own daily limit that you're comfortable with.
– Dynamic transaction fees: We've introduced dynamic transaction fees to our users to make sure you pay just the required amount for your transaction to be processed by the network without unexpected delays. This is in response to the increase in transactional volume on the network and the unexpected delays some of our users have been experiencing during high congestion period. With dynamic fees bitcoin transactions will be processed in a more predictable way with no unexpected delays. Fees will typically be below standard during times of low network activity and higher during period of high network congestion.
We also would like to confirm that our fully distributed 2-of-3 multisig wallet setup hasn't changed. In this case we've partnered up with BitGo to securely store users second key. You will also have the ability to recover your funds through your recovery key.
If you have any questions, please don't hesitate to reach out to me at [email protected] and you can sign up for a new BitOasis wallet at bitoasis.net.
Note: our iOS mobile app wallet will be upgraded by next week, we will keep you posted on the status through our social media channels and newsletter. Follow us on twitter @BitOasis and like our page on Facebook.