If you are a user who wants to buy Bitcoin in Jordan, BitOasis is your trusted platform. Operating in the region since 2015, our platform allows Jordanian residents and citizens to buy and sell Bitcoin, along with 15 other digital assets safely and securely.
Digital assets have come a long way since the inception of Bitcoin back in 2009. At BitOasis, we are proud to be the first and leading digital asset exchange in the MENA region. With us, it has never been easier and more secure to enter the world of blockchain.
Below are the three simple steps you need to follow in order to buy Bitcoin in Jordan:
Step 1: Sign Up on BitOasis
The first thing you need to do is sign up for an account on our platform. If you already have a BitOasis account, please login here and skip to Step 2. Simply provide your email address along with your name, and set a password.
Next, you will be asked to provide your phone number to complete the registration. The phone number is what you will use to confirm your logins, transactions and account changes, so please ensure you provide a valid mobile number.
Congratulations, you now have a BitOasis account!
Step 2: Verify Your Account
After successfully creating your account, you will need to proceed with verifying your account for Tier 2 in order to start buying and selling Bitcoin. The verification process is necessary for compliance and local/international regulatory purposes.
Visit the verification page to begin the process. If you already have a T2 verified account, please skip to Step 3.
You will be shown a list of documents that we require from your side in order to proceed with verifying your account.
Step 3: Deposit AED and buy Bitcoin
Once your account is verified, you are now eligible to buy and sell Bitcoin. In order to perform a transaction, you first need to deposit AED into your account.
Depositing AED to your BitOasis account has never been easier and more secure. Simply visit the AED deposit page and follow the steps in order to deposit the desired amount through your Credit/Debit card.
Once the transaction is successful, you will be able to see the deposited AED amount on your Dashboard.
Now that you have AED in your account, you can buy Bitcoin along with the many other currencies we support on BitOasis Core.
NOTE: AED withdrawals to bank accounts will not be available for our users in Jordan. We will keep you up to date as we introduce more and more services.
Buying Bitcoin Through BitOasis Core
BitOasis Core is the easiest and most convenient way to buy and sell Bitcoin (BTC) or any other digital asset we support. In order to buy Bitcoin through BitOasis Core, please follow the below steps: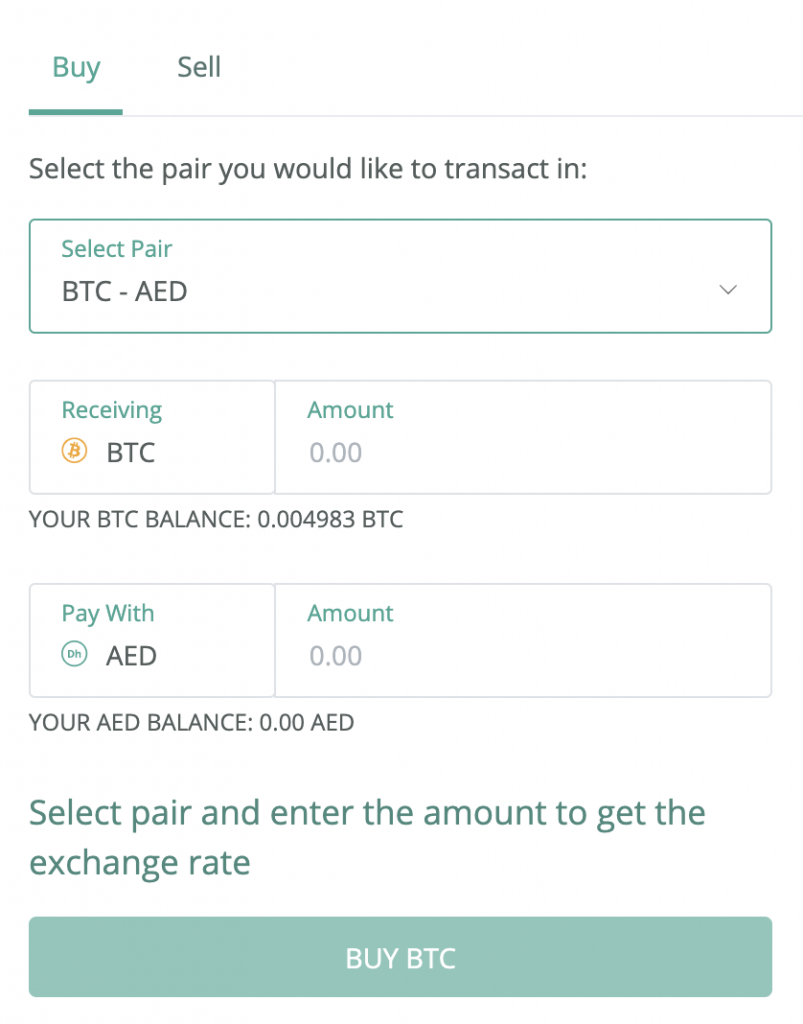 Select the digital asset pair you want to transact in
Enter the desired amount in AED or in Bitcoin
Hit the Buy Button!
Buying Bitcoin (BTC)Through BitOasis PRO
BitOasis Pro is designed for users who want to trade Bitcoin (BTC). Users on the PRO platform can enjoy advanced trading features like trading charts in addition to additional types of orders, such as market orders, limit orders, stop orders and stop-limit orders. In order to trade Bitcoin pairs through BitOasis Pro, please follow the below steps:
Select the trading pair you want to transact in from the drop-down menu on the top left.
Select "Market Order" as the type of order
After that, enter the amount of Bitcoin you want to buy
Hit the buy button!
For more information on BitOasis PRO, including the different order types and how to place a trade, please visit our BitOasis PRO guide
Keep track of all news and updates on our Blog and follow us on our Twitter, Facebook, Telegram, Medium as well as Reddit accounts for the latest updates.
---
Read More