Digital currencies have come a long way since the inception of Bitcoin back in 2009. In the Middle East and North Africa (MENA) region, the United Arab Emirates (UAE) has been the leader in taking the initiative and encouraging the development and growth of new technologies in the financial technology (Fintech) and blockchain sectors.
At BitOasis, we are proud to be the largest and most secure digital asset platform in the MENA region. With us, it has never been easier and more secure to enter the world of blockchain. Operating in the region since 2015 and headquartered in the UAE, our platform allows MENA residents and citizens to buy, sell and trade Tezos (XTZ), along with 15 other digital assets safely and securely.
What is Tezos (XTZ)?
Tezos (XTZ) is a blockchain network that is associated with a digital token called a Tezzie or a Tez. Instead of mining, XTZ token holders receive a reward for participating in the proof-of-stake consensus mechanism. It is this unique mechanism that made Tezos a success, with the token reaching its record high in February, 2020.
Tezos is a decentralized ledger and, like Ethereum, makes use of smart contracts. In fact, the term Tezos, according to its developers, is ancient Greek for "smart-contract".
How to buy Tezos (XTZ)?
In order to buy Tezos (XTZ) on BitOasis, you just need to follow three simple steps:
Step 1: Sign Up for a free BitOasis account
The first thing you need to do is to sign up for a free account on our platform. Simply provide your email address along with your name, and set a password.
Next, you will be asked to provide your mobile phone number to complete the registration. The phone number is what you will use to confirm your logins, transactions and account changes, so please ensure you provide a valid number.
Congratulations, you now have a BitOasis account!
Step 2: Verify Your Account
After successfully creating your account, you will need to proceed with verifying your account in order to start buying, selling and trading Tezos (XTZ). The verification process is necessary for compliance and local/international regulatory purposes.
Visit the verification page to begin the process. You will be introduced to three different levels of verification that you can choose from based on your requirements; Tier 1, Tier 2 and Tier 3.
Each tier has a different set of documentation and information required from you, as well as a different weekly UAE Dirham (AED) deposit and withdrawal limit.
Select the verification Tier you would like to proceed with based on your requirements. You will be shown a list of documents that we require from your side in order to proceed with verifying your account.
Please note that verifications are usually processed immediately for Tier 1, and take 24-48 hours for Tier 2 and 3.
Step 3: Deposit AED and buy Tezos (XTZ)
Once your account is verified, you are now eligible to buy, sell and trade Tezos (XTZ). In order to perform a transaction, you first need to deposit AED into your account.
You can deposit AED to your BitOasis account easily and securely on the AED deposit page. Simply follow the steps in order to deposit the desired amount through your Credit/Debit card.
Once the transaction is successful, you will see the deposited AED amount on your Dashboard.
Now that you have AED in your account, you can buy Tezos (XTZ) along with the many other digital assets we support. There are two options that allow you to either buy and sell Tezos (XTZ) or trade Tezos (XTZ).
Buying Tezos (XTZ) Through BitOasis CORE
BitOasis CORE is the easiest and most convenient way to buy and sell Tezos (XTZ) or any other digital asset we support. In order to buy Tezos (XTZ) through BitOasis Core, please follow the below steps: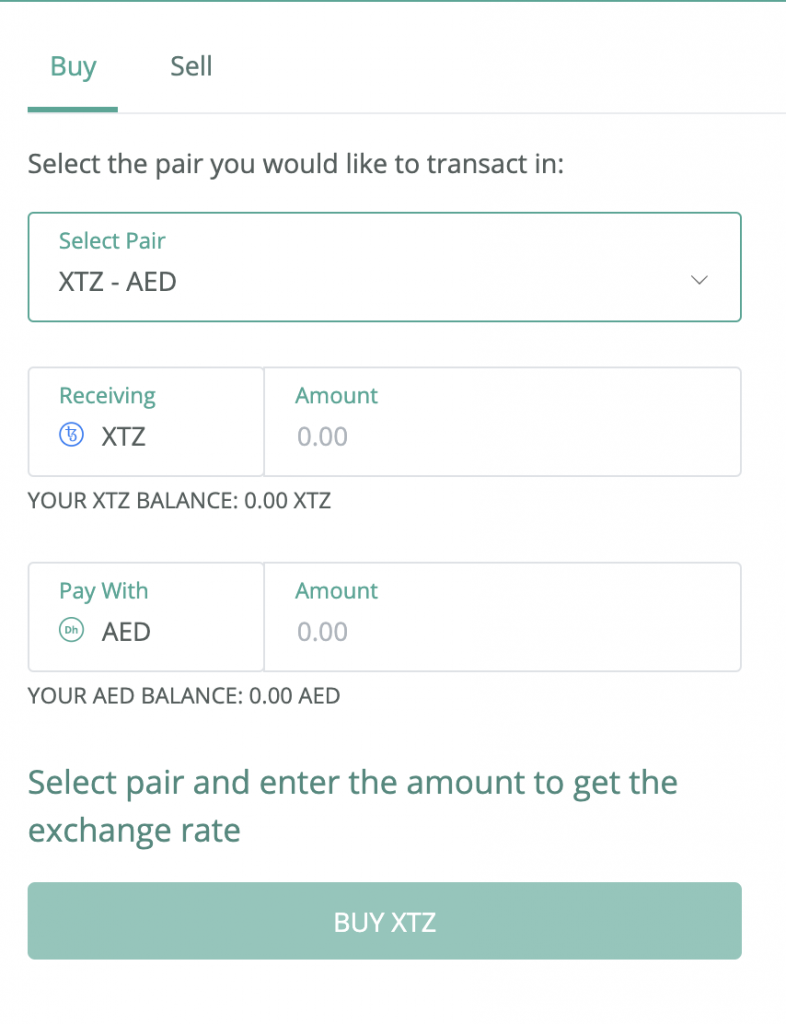 Visit the BitOasis Core Page
Select the digital asset pair you want to transact in. For Tezos (XTZ), you can select the pair XTZ-AED from the dropdown menu.
Enter the desired amount in AED or in Tezos (XTZ)
Hit the Buy button!
Buying Tezos (XTZ) Through BitOasis PRO
BitOasis Pro is designed for users who want to trade Tezos (XTZ). Users on the PRO platform can enjoy advanced trading features like trading charts in addition to additional types of orders, such as market orders, limit orders, stop orders and stop limit orders. In order to trade Tezos (XTZ) through BitOasis Pro, please follow the below steps: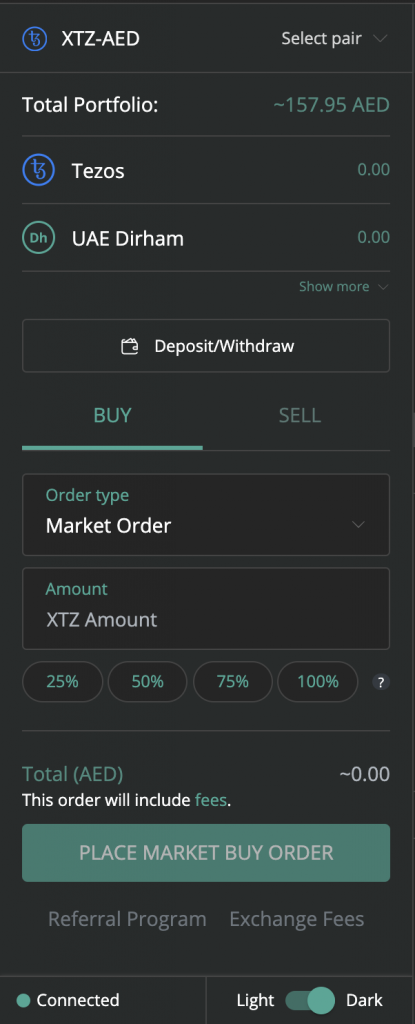 Go to the BitOasis Pro page
Select the trading pair you want to transact in from the drop-down menu on the top left. For Tezos (XTZ) you have two options to choose from:
Select "Market Order" as the type of order
After that, enter the amount of Tezos (XTZ) you want to buy
Hit the buy button!
For more information on BitOasis PRO, including the different order types and how to place a trade, please visit our BitOasis PRO guide
Keep track of all news and updates on our Blog and follow us on our Twitter, Facebook, Telegram, Medium as well as Reddit accounts for the latest updates.
---
Read More