On BitOasis, it has never been easier to buy your first digital asset with the most competitive deposit fees in the region, whether it is Bitcoin (BTC), Ethereum (ETH) or any of the 20+ assets we support. This post will share the methods you can deposit AED to your BitOasis account conveniently and securely. If you already have a verified account, please skip to Step 3.
Step 1: Sign Up for a BitOasis account
The first thing you need to do is to sign up for a free account on our platform. Simply provide your email address along with your name, and set a password.
Next, provide your mobile phone number to complete your registration. The phone number is what you will use to confirm your logins, transactions and account changes, so please ensure you provide us with a valid number.
Congratulations, you now have a BitOasis account!
Step 2: Verify Your Account
After successfully creating your account, you will need to verify your account to start buying, selling, and trading digital assets. The verification process is necessary for compliance and local/international regulatory purposes.
Visit the verification page to begin the process. You will be introduced to three different levels of verification that you can choose from based on your requirements; Tier 1, Tier 2 and Tier 3. Each tier has a different set of documentation and information required from you and a different weekly UAE Dirham (AED) deposit and withdrawal limit.
Select the verification Tier you would like to proceed with based on your requirements. The platform will show a list of required documents from your side to verify your account.
Please note that verifications are usually processed immediately for Tier 1, and take 24-48 hours for Tier 2 and 3.
Step 3: Deposit AED
a. Credit/Debit Card Deposits
You can deposit AED to your BitOasis account through your personal credit/debit card on the AED deposit page. Simply follow the steps in order to deposit the desired amount.
Important Notes
Your card issuer may charge you for foreign exchange or cash advance transactions.
Charges for cash advance transactions may be lower for debit cards than credit cards – please check with your card issuer for details.
Payments are only accepted from cards issued in the GCC.
Use a card issued under your name. Third-person cards are not allowed.
Use a maximum of 3 cards for your payments at BitOasis.
b. Wire Transfer Deposit
To proceed with a wire transfer deposit, please follow the below steps carefully and make sure to read the important notes below:
Step 1: Log in to your BitOasis account and create a deposit order with the amount you intend to send.
Step 2: Login to your online banking platform of the bank account that is registered on your BitOasis account and initiate an online money transfer using the bank details shown on the deposit page. Please make sure to ONLY include the BitOasis transfer reference in your bank transfer for tracking purposes.
Step 3: Upload a screenshot from your online bank account showing the following: AED Amount sent, Sender name, Recipient name, IBAN number, and reference number.
Step 4: We will credit the amount received to your BitOasis account
IMPORTANT NOTES
Only include AED deposit transfer reference (any additional information (including but not limited to nicknames, additional references may result in your deposit being delayed and/or rejected).
If AED transfers are not supported, you can initiate the transfer in EUR (No FX charges will apply in this case) or try initiating the transfer directly from your bank branch. The full AED amount will be credited to your account minus any transfer fees your bank charges you.
Purpose of Payment/Transfer (POP) code to be used = Computer Services.
BitOasis is not responsible for any fees (FX or otherwise) incurred from failed transactions.
Step 4: Buy Digital Assets on BitOasis
Buying Bitcoin Through BitOasis Core
BitOasis Core is the easiest and most convenient way to buy and sell any other digital asset we support. In order to buy through BitOasis Core, please follow the below steps:
Visit the BitOasis Core Page
Select the digital asset pair you want to transact in
After that, enter the desired amount in AED or in Bitcoin
Hit the Buy Button!
Buying Digital Assets Through BitOasis Pro
BitOasis Pro is designed for users who want to trade digital assets. Users on the Pro platform can enjoy advanced trading features like trading charts in addition to more types of orders, such as market orders, limit orders, stop orders and stop limit orders. In order to trade Bitcoin through BitOasis Pro, please follow the below steps: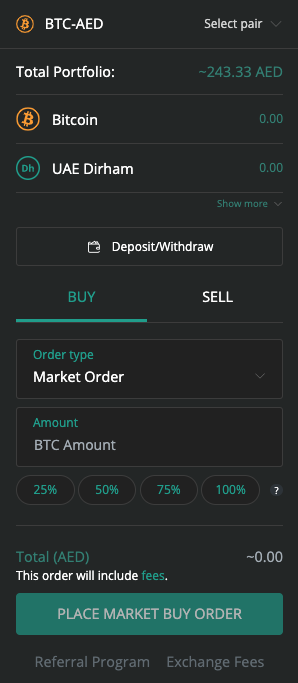 BitOasis Pro is designed for users who want to enjoy advanced trading features like trading charts in addition to more types of orders. We will talk about the quickest way to buy in this article.
Go to the BitOasis Pro page
Select the trading pair you want to transact in through the drop-down menu on the top left
Select "Market Order" as the type of order
After that, enter the amount of Bitcoin you want to buy
Hit the buy button!
For more information on BitOasis PRO, including the different order types and how to place a trade, please visit our BitOasis PRO guide.
Don't forget to download the BitOasis App available on iOS and Android
About BitOasis
BitOasis is the largest, most secure, and most liquid digital asset exchange in the Middle East and North Africa (MENA) region, offering over ten (10) digital assets to buy, sell and trade against the UAE Dirham (AED). The BitOasis platform is available to users in the United Arab Emirates (UAE), Saudi Arabia, Bahrain, Kuwait, Oman, Jordan, Egypt and Morocco.
Keep track of all news and updates on our Blog and follow us on our Twitter, Facebook, Instagram, Telegram, Medium as well as Reddit accounts for the latest updates.
---
Read More