As a way of sharing the updates with all of you, we are proposing this regular product update piece so you can stay up to date on all the new and exciting things that are happening on BitOasis.
The team has been continuously updating, improving and tweaking the platform to better suit your needs. One of the main sources of feedback we consider is you; We prioritize any comment and note that comes from our users as our aim is to always exceed the expectations.
So, here it goes! Below is the list of most recent updates and tweaks done to BitOasis.net:
Pro Order History Filters
You ask, we prioritize, study and deploy. The filtering capability for the Pro order history has been long requested and is finally here.

You can now filter your list of orders based on the status and pair with the ability to specify timeframes.
It is worth mentioning that the Export to .CSV function is also available for your further analysis.
Pro Base Currency Tabs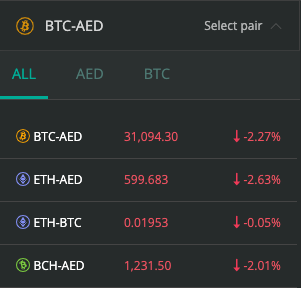 As we are constantly launching new tokens and shipping new products, it is now worth adding the base currency tab in the pair selector for Pro. This will help you to quickly find the pair you are looking for and proceed with your orders.
Orderbook Price Population

To help you execute faster orders, we have revived the function to click on any orderbook entry to populate the price in the order form.
Dashboard Recent Activity Filters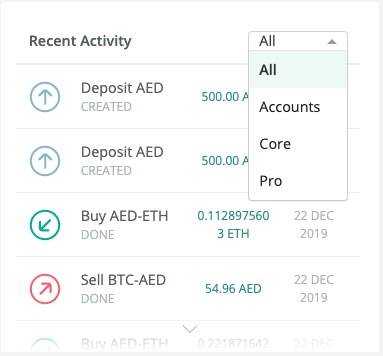 As a tool to help you better understand the nature of your BitOasis account's activity, we have added a drop-down menu to filter it according to the type (Core, Pro, Accounts and All). A quick glimpse should be sufficient to give you good insights.
Timeframes for Price Charts

Price charts now include the option to change the timeframe to allow for better historical data viewing and analysis
These updates are a quick representation of what has been changing on the platform. Apart from that, there has also been performance updates to improve data streaming rates and page load times.
Do you have any feedback or comment? Share it now by submitting the form!
Our recent token launch details can be found here: