While crypto markets gradually turn to greener pastures, some assets showed less movement in prices, and others remained flat this week. That said, extreme volatility may be cooling off, days after losses that came with LUNA, and TerraUST stablecoin de-pegging from the US dollar. Meanwhile, Bitcoin has managed to stay above $29,000 because of a series of events including increased investor activity.
Satoshi-era wallets get moving
The number of Bitcoin holders has increased to 60% this week, with decade-old addresses coming back to life. Some of these addresses, that are Bitcoin whales, have become more active this week. In the past four days alone, addresses containing millions of dollars in Bitcoin that have been dormant for over a decade moved their Bitcoin funds. Earlier this month, crypto transaction tracker, Whale Alerts discovered a dormant address containing 50 Bitcoin (which was $2,165,186 at the time) had been activated after 12 years .
An uptick in retail addresses
According to Santiment, a crypto on-chain data analytics firm, the revival of the Satoshi-era whale wallets may have influenced the already mounting pressure to push prices up. While we know that large investors have been accumulating Bitcoin, retail activity has also spiked, regardless of the uncertainty in the market.
For the first time, addresses with at least 0.01 Bitcoin passed the 10 million mark, according to data from Glassnode.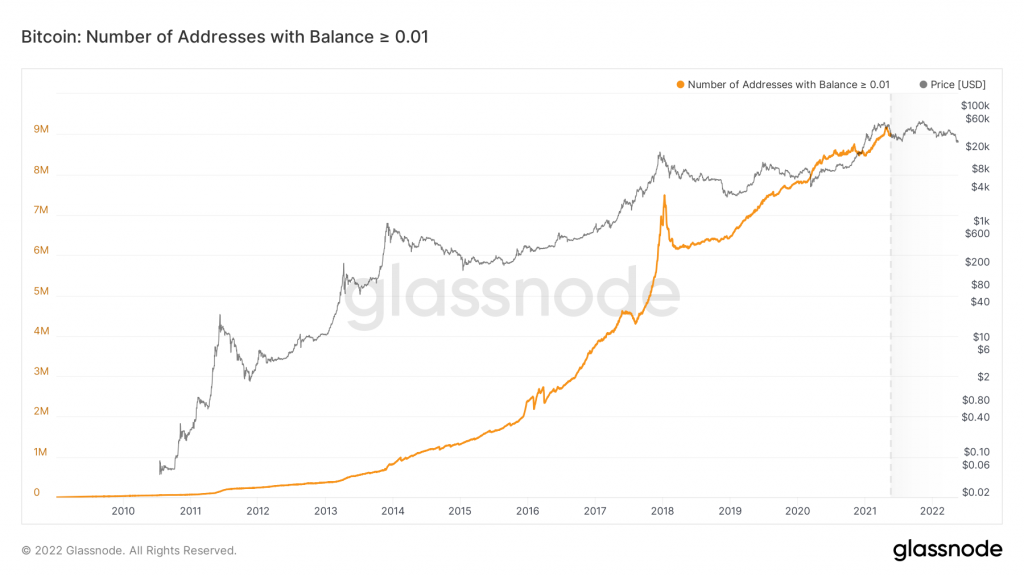 Investors seem to be accumulating the asset even as the US Federal Reserve and other central banks raise interest rates. Recently, Federal Reserve Chair, Jerome Powell said that he will not hesitate to keep raising rates until inflation comes down.
Also Read: Paying with Bitcoin? Here's a list of companies that accept crypto.