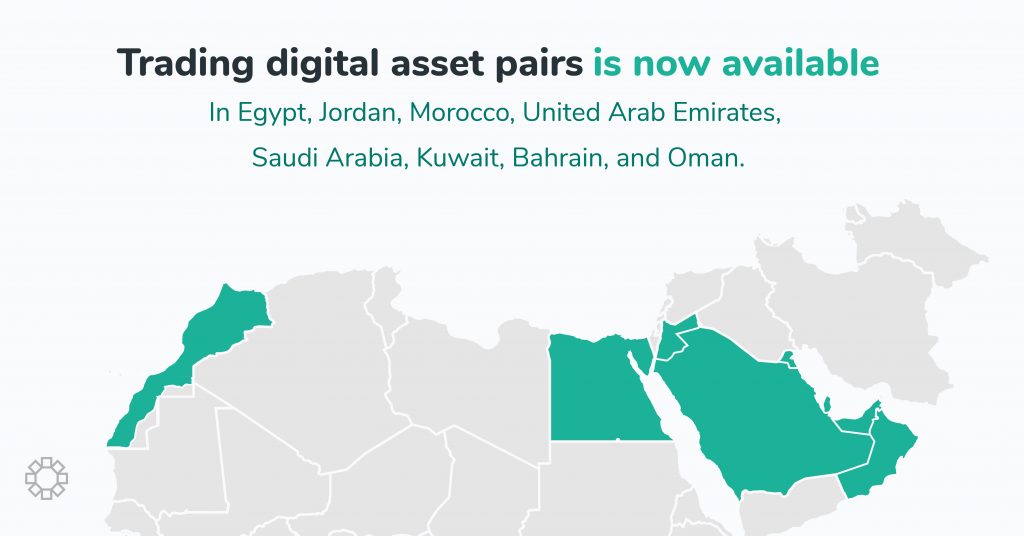 We are pleased to announce that crypto asset pairs trading is now available on our exchange if you are in Egypt, Jordan and Morocco! Start trading today to enjoy an additional 50% discount on maker fees starting at 0.05% and taker fees starting at 0.075% only!
The following pairs are available for you to trade:
– BCH-BTC
– BSV-BTC
– ETC-BTC
– ETH-BTC
– LTC-BTC
– XRP-BTC
– ZEC-BTC
Simply visit the BitOasis Pro to begin trading today!
For further support or information, please don't hesitate to contact our support team.
Thank you for using BitOasis!
Terms & Conditions:
1- This feature is available in Egypt, Jordan, Morocco, United Arab Emirates, Saudi Arabia, Kuwait, Bahrain, and Oman only.
2- The Exchange platform supports digital asset – digital asset pairs only and is not yet available for digital asset – fiat trades.
3- BTC only can be transferred to your BitOasis multisig wallet. All other digital assets will need to be stored on the Exchange platform only or transferred to an external wallet.
4- This feature is valid on the following digital asset – digital asset pairs only: BCH-BTC, BSV-BTC, ETC-BTC, ETH-BTC, LTC-BTC, XRP-BTC, ZEC-BTC.
5- The 50% discount on trading fees is valid until November 29, 2018, only.
6- In order to use the Exchange platform, please ensure your account is verified.