We at BitOasis are excited to announce the second edition of Product Insights! The team has been hard at work continuously updating, improving and tweaking the platform to give you a seamless experience. We have taken all your feedback into consideration and are happy to showcase the most recent tweaks and product releases:
Android App Release
The BitOasis Android App was officially launched on the Google Play Store. The app enables you to buy and sell Digital Assets instantly as well as track your portfolio wherever you are. The app also allows you to deposit AED through your personal credit or debit card and initiate withdrawal orders in a few taps.
Version 2 of the Android App will be coming soon with additional features, and support for BitOasis Pro.
Read more about the BitOasis Android App Features here.
Note: The iOS version of the BitOasis App is currently under development and is being finalized for release soon.
Credit/Debit Cards Deposits Activation for Jordan
Our users in Jordan can now buy Digital Assets through their personal debit or credit card. In order to successfully place a buy order, users need to be T1 verified.
Read more about using your credit or debit card to buy digital assets here.
Affiliate Program
The BitOasis Affiliate Program has also been updated. The program lets you earn rewards for each successful user transaction made on BitOasis Pro through your unique affiliate tracking link. There is no limit on the number of users that can sign up through your unique affiliate tracking link, so the more users you refer, the more rewards you can earn.
Read more about the BitOasis Affiliate Program here.
Order Confirmation Emails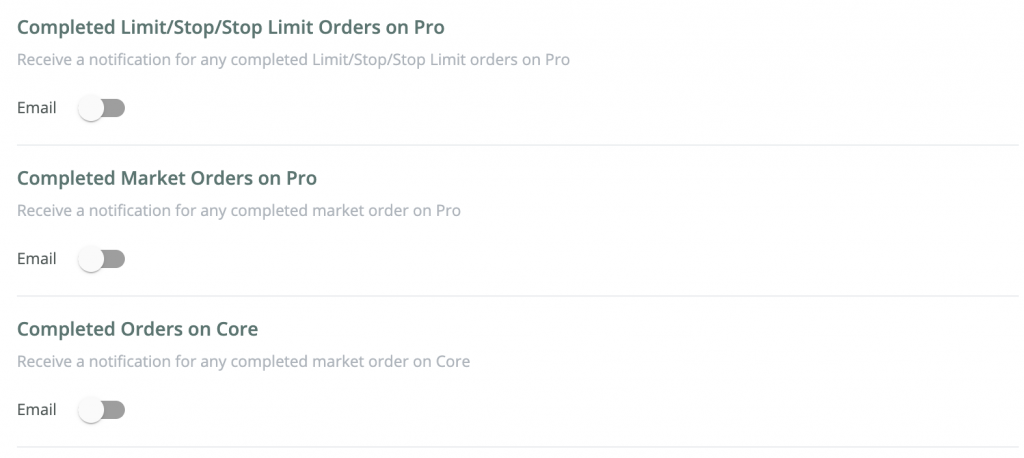 You can now opt to receive order confirmation emails whenever you successfully place an order on BitOasis. You can opt to receive emails for the following cases:
Limit/Stop/Stop Limit Orders on Pro,
Market orders on Pro
Orders on Core.
Find out how to set up order confirmation emails here.
Price Alert Feature
Never miss a trading opportunity with our Price Alert feature. Simply set an automatic price alert SMS or Email, and get instantly notified about price movements.
The Price alert is now available on BitOasis Pro. Instantly activate alerts while you analyze market data on Pro!
Find out how to set up automatic Price Alerts here.
New Tokens
We have taken all our users' feedback into consideration and have launched the following tokens and pairs:
Tether (USDT)
Available Pairs: BTC-USDT, ETH-USDT and USDT-AED (on BitOasis Pro only)
Read more about Tether (USDT) and how you can buy it here.
Tezos (XTZ)
Available Pairs: XTZ-AED; XTZ-BTC
Read more about Tezos (XTZ) and how you can buy it here.
Neo (NEO)
Available Pairs: NEO-AED; NEO-BTC
Read more about Neo (NEO) here.
About BitOasis
BitOasis is the largest, most secure, and most liquid digital asset exchange in the Middle East and North Africa (MENA) region, offering over ten (10) digital assets to buy, sell and trade against the UAE Dirham (AED). The BitOasis platform is available to users in the United Arab Emirates (UAE), Saudi Arabia, Bahrain, Kuwait, Oman, Jordan, Egypt and Morocco.
Keep track of all news and updates on our Blog and follow us on our Twitter, Facebook, Telegram, Medium, LinkedIn as well as Reddit accounts for the latest updates.
---
Read More