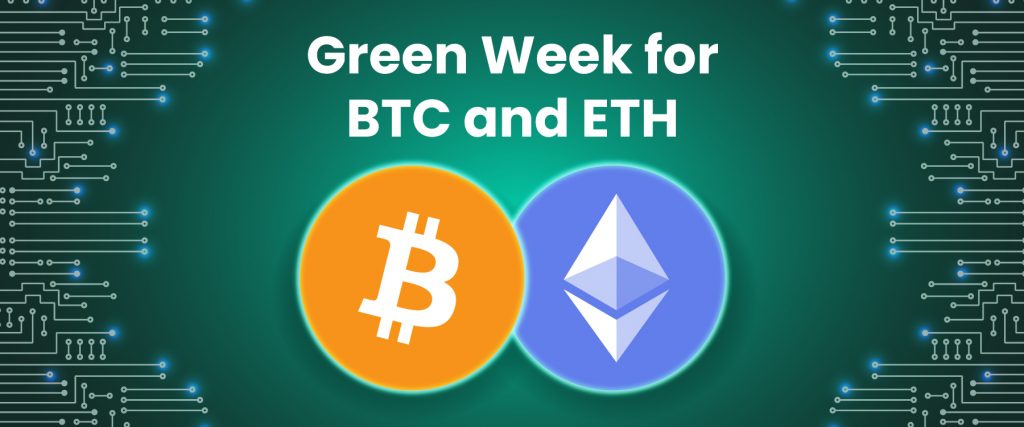 Bitcoin price rallied to its highest in more than a month on Wednesday, breaching $24,000, following a stock market hike which seems to affect BTC's price movements more often lately. This was interrupted by an announcement from Tesla that it's selling 75% of its Bitcoin holding, leading the price to fall slightly to $22,524 on the next day and ending the week with an over 12% increase.
Meanwhile, Ethereum seemed to have an even better week, benefiting from the market's uptrend, in addition to the positive sentiment around the blockchain's developers' proposal of Sep 19th as a possible date for finally switching the network to the proof-of-stake consensus mechanism, or what's widely known as 'The Merge'. Both factors helped an ETH's price hike to $1,602 on Tuesday, ending the week with a price surge of over 35%.
---
Snacks
Dubai announces new metaverse strategy
Sheikh Hamdan bin Mohammed Al Maktoum launched on Monday Dubai's new metaverse strategy, which is said to create 40,000 virtual jobs and add $4 billion to Dubai's economy in five years. It would also support the UAE Government's vision of increasing the number of blockchain companies by five times. In the next five years, Dubai seeks to become one of the top 10 metaverse economies and a global frontrunner in adopting digital solutions.
Saudis' interest in crypto is up by 595%
Crypto as a side hustle is becoming more commonplace among Saudi investors. According to Twitter Trends 2022, more people in the Kingdom see crypto as an accessible investment and a global movement. There's been over 595% growth across topics like bitcoin, digital currency, and others on Twitter. This follows a trend of increasing interest in income-generating hobbies and other means of participating in the Saudi digital economy.
---
Market Moves
MATIC is up by 113% in a month

Polygon continued its impressive performance, surging by 27.68% this week, and reaching an all-week-high of $0.985. Polygon had an extra push with the launch of the new zero-knowledge scaling solution Polygon zkEVM, to complement an impressive month in which MATIC managed to achieve a 113% positive change, jumping from $0.393 to $0.904 in the last 30 days.
Solana rises to the occasion
Solana is among the major altcoins that have shown gains this week. Trading at a weekly high of over $46, Solana gained more than 38% in the past seven days. New Daily Addresses on Solana consistently grew its user base. According to the Block, Solana's new daily active addresses climbed by 58.6% throughout the bear market, making it the "only" major layer-1 network to "consistently grow its user base" throughout this period.
---
Trending
Paraguay is about to regulate crypto trading and mining
On Thursday, Paraguay's Senate approved a bill to regulate crypto mining and trading. The proposal stems from legislation drafted last year and needs to be approved by President Mario Abdo Benitez before becoming law. According to the Congress of Paraguay, mining will need to be authorized by the MIC, and the National Electricity Administration will be in charge of the energy supply.
SWIFT chooses digital assets as a theme for hackathon
Global payment giant, SWIFT, has selected "digital assets" as the theme for their 2022 hackathon, a tech event that challenges teams to come up with innovative solutions. This year's agenda includes exploring digital assets, on the innovation, interoperability, and ownership front.
Are you enjoying the Weekly Wrap? We'd love for you to pass it around. Tell us what you want to read next or say something on Twitter and Telegram.