Here's your weekly lowdown in under five minutes.
Top Story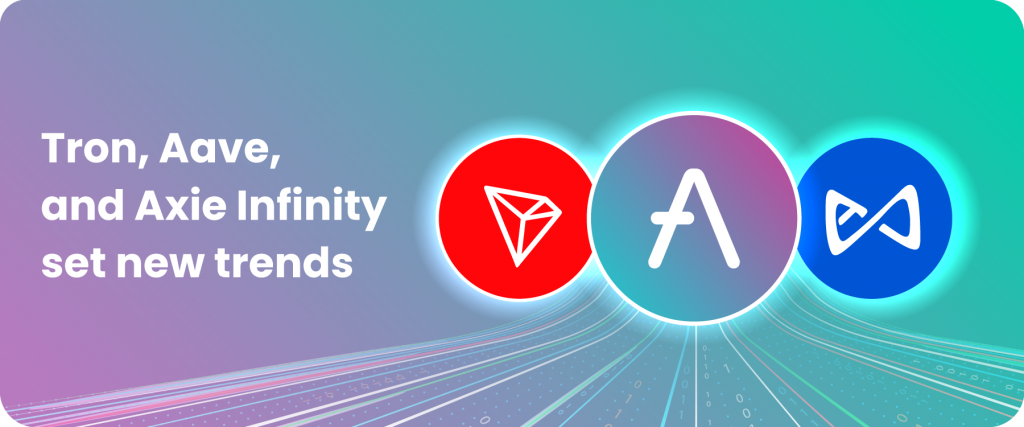 Since last week, very little has changed regarding the prices of major cryptocurrencies. The reality is that the dominant trend is bearish.

Although some good signs have emerged, with tokens like Tron, Aave, and Axie Infinity, trading with decent gains.

---
Snacks
IMF Chair says crypto is 'important'
Comments from the Managing Director of the IMF – Kristalina Georgieva surprised many crypto investors this week. Sharing her views at the World Economic Forum, the IMF boss said that people should not view Terra's crash as a reason to abandon the crypto sector as cryptocurrencies offer faster service, lower cost, and more inclusion. According to her, all digital assets shouldn't be treated the same.
GMT mining company will arrive in UAE
Crypto mining company GMT, is setting up its global headquarters in the UAE. The company is assessing several sites throughout the Emirates to build a mining center, service and repair facilities, and a blockchain research and development center.
---
Market Moves
Shiba Inu in high demand

Even as the price of the meme-inspired coin fell by over 50% this month, Shiba Inu has added 30,000 holders in the past 30 days. New holders are joining the Shiba Inu community as the token is increasingly being accepted as a payment option. Recently, a former Technicolor executive joined Shiba Inu's metaverse team, which could have piqued investors' interests.
Solana Dips, NFT sales surge
Solana seems to be facing a harder bear market than other major tokens, dipping 21.4% in the last seven days, and losing 57% of its value in one month. This has resulted in scrapping almost $19 billion of its market cap, which is now around $13.7 billion. But Solana NFTs have generated market sales worth $24.3 million in 24 hours, exceeding Ethereum's NFT sales in the same period.
---
Trending
MBC Group and BitOasis are now partners!
BitOasis has entered into a strategic partnership with MBC Group, the largest and leading media company in the MENA region. Under the partnership, BitOasis will launch region-wide crypto education initiatives on MBC Group's diverse media platforms and channels.
Vitalik Buterin isn't a billionaire anymore
The co-founder of Ethereum, announced in a tweet that he is no longer a billionaire. The current bear market may have reduced the value of his portfolio, leaving him with about $602 million in Ethereum in his wallet, as of Thursday.
Are you enjoying the Weekly Wrap? We'd love for you to pass it around. Tell us what you want to read next or say something on Twitter.