Another new year, another clean slate. It's now time to spot new trends, and stay ahead with the latest on bitcoin, DAOs, altcoins and NFTs…
Is this the latest trend in the Bitcoin market?
Bitcoin was deep in the red zone last week. The crypto's downside wicks reached $42,000, as the asset recorded an 11% drop in the past seven days. But the crypto's market has been bearish ever since analysts noted how sky-high BTC valuations of over $100,000 have not materialized.
Others remained positive and made fresh predictions for the new year. For instance, Katie Stockton of Fairlead Strategies believed the current drop in prices is a "corrective phase." Interestingly, in the wider market, Asian and European stocks traded in subdued fashion along with the S&P 500 futures that dipped recently. The two sectors may not be correlated, but analysts predict that if stocks are in the green this year, bitcoin will likely outperform.
The assumption is based on how bitcoin had impressive gains in 2021. In terms of yearly gains, BTC increased by 73% in value compared to the S&P 500 that rose around 28%. However, researchers cautioned that if stock markets underperform this year, bitcoin may follow suit.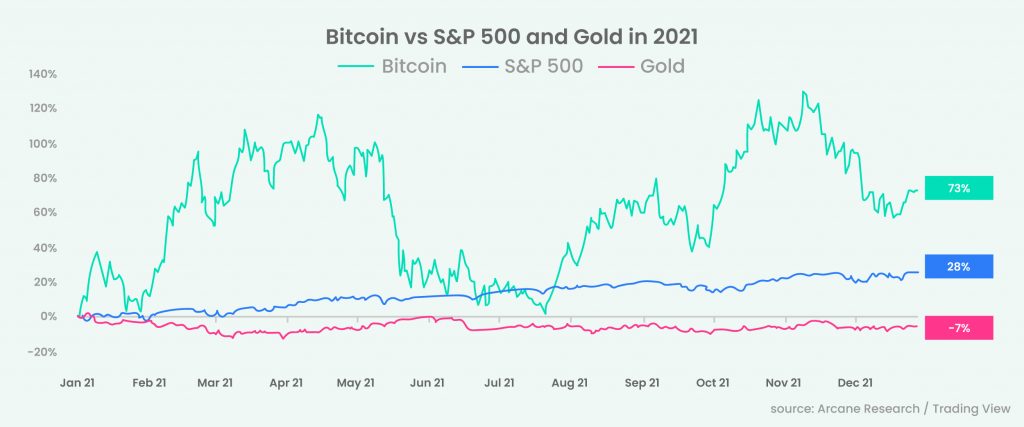 Meanwhile, Ether, which has long played second fiddle, can't be disregarded in 2022. The largest altcoin has outperformed bitcoin with a 270% growth in 12 months, compared to BTC's 46% growth in the past 12 months.
. . .
What are DAOs and how to launch your own?
DAO (decentralized autonomous organization) allows people to form new digital communities. These organizations decide on how to pool resources at a global scale, for launching kickstarter initiatives with the help of cryptocurrencies. Some think DAOs are the future of crowdfunding, and others feel DAOs are similar to the recent popularity of memecoins. But as you can see, DAOs can be launched for anything. No kidding. All you need is a mission, and a developer friend to build you a governance token.
You can also create your own DAO in the metaverse too, like in Decentraland, which already established its DAO that allows gamers to vote on proposed updates. When you do actually make your DAO project, establishing clear rules from the start will tackle issues like mob rule. Especially if a few members have too much of a stake in the wallet shared between all members.
DAOs may still be popular this year as most projects have their own incentives. For instance, even though ConstitutionDAO was unsuccessful in buying a copy of the US Constitution, members still have their tokens, which could potentially be valuable in other markets. Moreover, tokens like $PEOPLE, and $SPICE, among others may not be as popular as MAKER, but they are certainly trading today.
. . .
Here's how Chainlink recovered in the first week of 2022!
Altcoins like Chainlink had an impressive 30% growth this week. In the past 12 months, LINK surged by about 95% in prices. But here's the interesting part. LINK increased from roughly $19 in December 2021, to about $25, all within the first week of January. Analysts say this indicates that traders who were trading for losses are now back in profit.
To confirm this, another data provider showed that 57% of LINK HODlers made profits at current prices. Meanwhile, 32% of holders were at a loss and about 11% of LINK investors were breaking even. LINK has also had the highest number of transactions among the top 1000 Ethereum wallets on January 5. One reason why LINK could be regaining its former glory is probably after AccuWeather announced a live node on Chainlink, calling this "a debut into crypto" to get "insight into world-class weather data for blockchain." 
Back in 2020, an increasing number of projects had integrated with Chainlink, which led to a surge in LINK's price, at the time. If more entities adopt Chainlink this year, LINK could see better days ahead, after losing about 50% of its value last year.
. . .
NFTs have caught this US regulator's eye
US SEC Commissioner Hester Peirce, popularly known as Crypto Mom, anticipated more use cases for NFTs in 2022. She believed these use cases could expand ownership and governance rights and predicted that regulating the NFT space could be next this year. 
Of late, NFTs have been getting much mainstream attention. In fact, to meet rising demands for NFTs, electronics giant Samsung plans to support tokens with its 2022 TV lineup. Recently, pop icon Eminem spent $500,000 for his first Bored Ape Yacht Club NFT, which is one of the most popular NFT collections.
To learn more, see our other articles about cryptocurrencies and other industry highlights.