Here's your weekly lowdown in under five minutes.
Top Story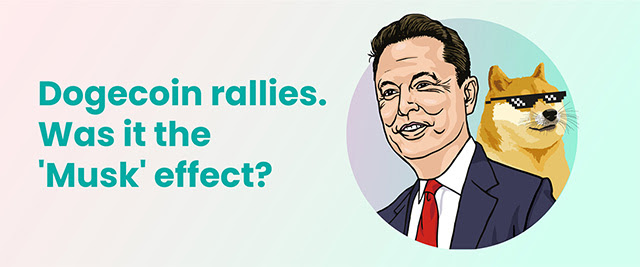 Dogecoin, the crypto that Elon Musk frequently supports, jumped 10% this week.
Prices changed a day after Musk disclosed his ownership of 9.2% of Twitter.
It's still unclear what Musk is planning with the stake.
Word on the street is that Musk could push for DOGE payments to somehow be integrated into Twitter. Read the full story here.
---
Breaking
Georgia has plans for crypto
Georgia's central bank is working with the International Monetary Fund to develop a regulatory framework for crypto. The central bank's Governor, Koba Gvenetadze, noted that before crypto regulations come into force, the central bank has already taken certain measures: "In particular, financial institutions have been banned from providing virtual asset exchange and transfer services," he said in a recent interview. "Also, persons that carry out activities related to virtual assets should be classified by financial institutions as high-risk clients," he added.
Singapore passes new crypto law
Singapore has given the green light to a new law that provides stricter oversight of cryptocurrency providers. Singapore-based virtual asset service providers will need to be licensed even if they only carry out business overseas. Authorities say this would safeguard the nation's reputation on financial probity or ethics as it plans to host more crypto-related businesses.
---
Market Moves
Bitcoin is fast approaching a mid-halving event

Bitcoin halving is an important event in crypto markets. Every four year, the process cuts the supply of bitcoin in half. In previous cycles, a price hike followed the halving in May 2020, raising the price again to a peak in October 2021. While the next halving is expected to occur between March and April 2024, a 'mid halving' is expected to happen next week, and people are expecting prices to change soon after.
Cardano resists market slump
For the first time, the number of smart contracts on Cardano increased above 2,000. As crypto markets slumped in the past few weeks, Cardano's ADA was amongst the very few coins still increasing in price. In the past 30 days, the price of ADA has increased by 35.5% with the coin trading at a weekly high of $1.05.
---
Trending
Crypto-friendly Starbucks? Coming right up!
World's largest coffeehouse chain, Starbucks, will enter the Metaverse and the NFT business "sometime" before the end of 2022, says Howard Schultz, CEO of Starbucks. During an Open Forum, Schultz explained that the NFT ecosystem was young and that Starbucks had the best tools and collections to move into this new sector.
The Cardano & Snoop Dogg show
Expectations were high this week as the founder of Cardano, Charles Hoskinson, and Snoop Dogg, a popular rapper and crypto supporter had an "unmissable conversation" about the Cardano ecosystem at Cardano360 on April 5 on Twitter. The rapper will collaborate with Cardano's NFT project Clay Nation, to provide fans with rare and previously unreleased music.
Community
Special Ramadan Rewards: Earn daily rewards with the BitOasis Fawazeer contest when you answer our crypto questions on social media.
Get Fit this Ramadan: Win every ten days! All you have to do is upload a selfie of you working out and tag Bitoasis. We'll reward three lucky winners with an Apple Watch, Fitbit, or a gift voucher from your favorite sports brand!
Are you enjoying our Weekly Wrap? We'd love for you to pass it around. Oh, and feel free to tell us what you want to read next or say something on Twitter or Telegram.