BitOasis will be updating the fee schedule of its Pro product, our platform geared towards the needs of more experienced traders, and will change its fiat withdrawal fees, effective from 06:00 pm GST, April 18, 2023. Read on for the key details. If you are curious about our fees in general, you can always check our Fees page.
If you have been one of our happy users for a while, you will know that BitOasis Pro has always had the lowest fees and highest number of assets compared to other regulated platforms from the region, offering you the unrivaled opportunity to trade 60+ tokens and 200+ pairs for AED and SAR. We decided to change our Pro fees to bring them closer to market standard, which will enable us to further improve our product and give you an even quicker, more detailed, and precise trading experience. You can find an overview of the key changes below.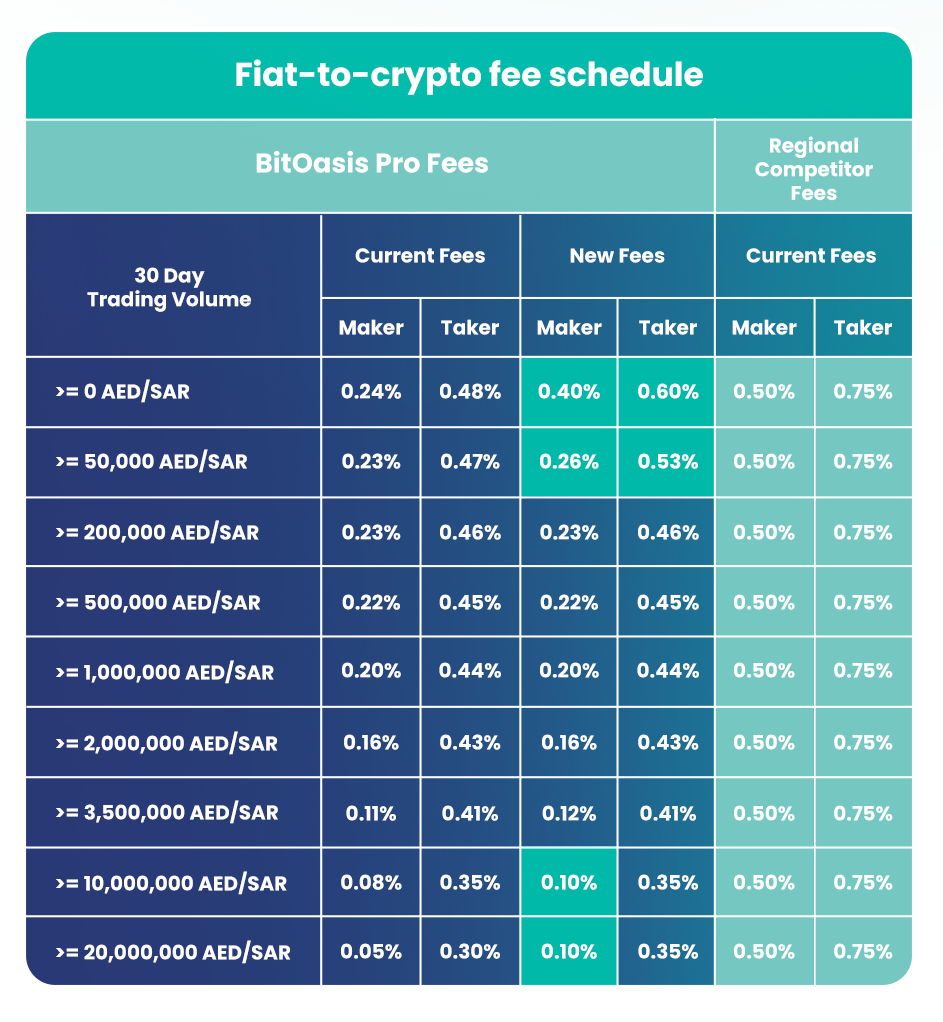 Since its launch in 2019, Pro has been your (and our) favorite BitOasis product in part because it has evolved so much across the years in response to your advancing needs. Over the course of 2022 and 2023, we have:
Launched Pro 2.0 to give you an all-new, slicker trading experience with even faster charts and data feeds;
Built the Profit-and-Loss (PnL) feature, offering you a convenient way to do comprehensive profit and loss analysis for your portfolio;
Created a way for you to set up custom price alerts (email or SMS) for any trading pair to make sure you can stay on beat with market movements.
Similarly to our Pro fees, changes to our fiat withdrawal fees will serve the purpose of building our capacity and capability to process withdrawals even quicker. Over the last year, we have decreased withdrawal processing time from 5 working days to merely 2. The new fees will help us make your experience even quicker and more convenient.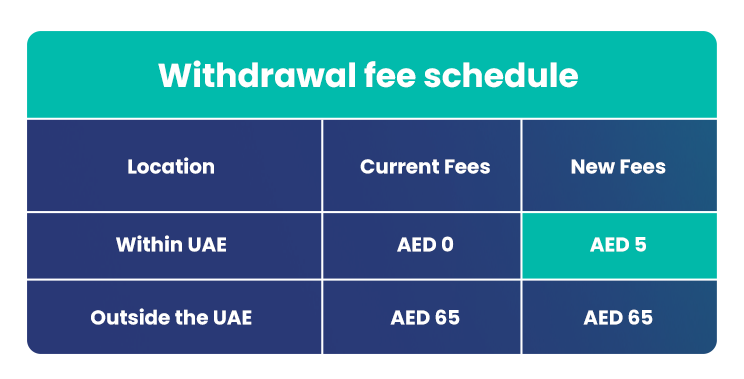 We have many more improvements planned for Pro and our other products, including new order types, dropping very soon – make sure you keep an eye on our blog for future updates! As always, please reach out through the usual channels if you have any questions about the changes or our products. If you are curious about our VIP program and the unique fee structure it comes with, you can learn more about the exclusive experience here.
---
Brief update:
BitOasis will be updating its withdrawal fees for its users in the UAE from AED 5 to AED 10 effective 06:00 pm GST, June 21, 2023. We made the call to change our fees to boost our ability to continue rolling out new products and more advanced features even quicker, helping you invest and trade with even more precision, confidence and convenience.
We last changed our fee schedule in April (see the update above). Since then, we have delivered a number of new features you have been asking for:
Introduced performance analysis on both Lite and Pro, a nifty tool that gives you more insights into how your portfolio changes and performs over time;
Brought you more order types on Pro, including One-Cancels-the-Other (OCO) and stop orders;
Gave you access to advanced analytics data for tokens listed on our platform to make sure you can keep track of the more nuanced details of assets and make more informed decisions;
Added support for new fiat currencies. You can now deposit, withdraw and trade in Bahraini dinar, Omani rial, Kuwaiti dinar, and Qatari riyal, in addition to the Emirati dirham, the Saudi riyal and the US dollar.
Thank you for placing your trust in our platform, and, as always, please let us know if you have any questions. We can't wait to show you the new products and features we have been working on!